Tropical trifle
Preparation time

15 minutes + 1 hour refrigeration

Cooking time

2 minutes

Serves

4-6
Ingredients
250 g packet sponge fingers (savoyardi biscuits)
2 x 450 g cans sliced mangoes, drained, juice reserved
170 g can passion fruit pulp
600 ml carton low-fat prepared custard
2 tablespoons desiccated coconut (optional)
Method
Arrange sponge fingers over the base of a 6-cup capacity dish, breaking them as needed to fit in a single layer.
Drizzle 3 tablespoons of reserved mango juice over sponge fingers.
Spread over half the passion fruit pulp.
Pour half the custard evenly over the top.
Top with a layer of sliced mango.
Repeat layers, finishing with sponge fingers (you may not need all the sponge fingers).
Put coconut in a dry frying pan and stir over medium heat for about 1-2 minutes, until lightly golden.
Transfer to a plate to cool, then sprinkle over trifle.
Refrigerate for at least 1 hour before serving.
HINT: In place of the mango, use any canned fruit or fresh stone fruit in season. If using fresh fruit, add orange juice instead of reserved can juice. Keep in the fridge for up to 2 days
Nutrition
| ANALYSIS per serve | 4 | 6 |
| --- | --- | --- |
| Energy kJ (Cal) | 1927 (460) | 1284 (307) |
| Carbohydrate (g) | 87 | 58 |
| Protein (g) | 14 | 9 |
| Fat (g) | 7 | 4 |
| Calcium, Fibre, Vitamin C | | |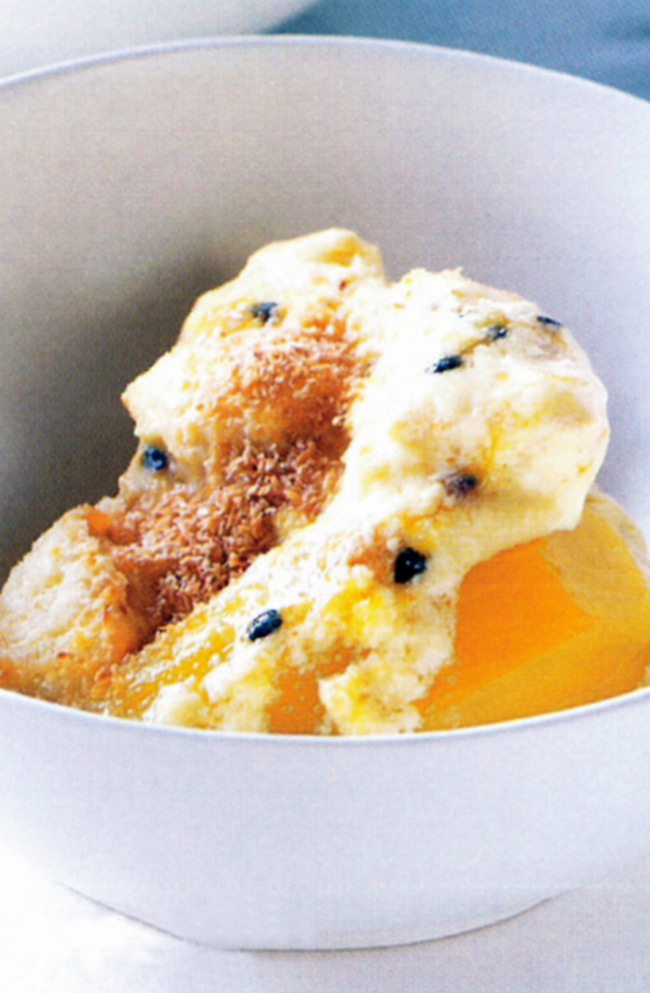 Australian Institute of Sport - From the "Survival from the Fittest" cookbook
05 Nov 2018
HINT: In place of the mango, use any canned fruit or fresh stone fruit in season. If using fresh fruit, add orange juice instead of reserved can juice. Keep in the fridge for up to 2 days
no, Treats, survival-from-the-fittest
Treats
Return to top