Seafood & basil stirfry
Preparation time

15 minutes

Cooking time

15 minutes

Serves

4-6
Ingredients
2 cups white long-grain or jasmine rice
250 g green (raw) king prawns
400 g white fish fillets
100 g cleaned calamari
spray canola or olive oil
100 g scallops, without roe
2 teaspoons minced garlic
2 teaspoons chopped red chilli
1 red capsicum, sliced
8 spring onions, sliced
2 tablespoons MAGGI Oyster Sauce
2 tablespoons MAGGI Fish Sauce
2 tablespoons water
1/3 cup shredded fresh basil leaves
Method
Cook the rice in a large pan of boiling water for 12 minutes or until tender.
Drain well.
Peel and devein the prawns, leaving the tails intact.
Cut the fish into bite-size pieces.
Cut the calamari into small squares and score the inside surface with a sharp knife.
Spray a nonstick wok or frying pan with oil and heat.
Stirfry the prawns over high heat for 2 minutes or until the flesh becomes opaque.
Set aside.
Reheat the wok and cook the fish in the same way, remove and set aside.
Add the garlic and chilli to the pan, stirfry for a few seconds, then add the capsicum and spring onions and stirfry for 2-3 minutes.
Add the sauces and the water and bring to the boil.
Return all the seafood to the pan along with the basil and quickly toss to heat.
Serve immediately over the rice and enjoy with salad.
HINT: Any of the seafood elements could be increased, decreased or omitted to your liking, but keep the total weight in mind to yield enough for 4-6 servings
Nutrition
| ANALYSIS per serve | 4 | 6 |
| --- | --- | --- |
| Energy kJ (Cal) | 2515 (601) | 1676 (400) |
| Carbohydrate (g) | 87 | 58 |
| Protein (g) | 49 | 33 |
| Fat (g) | 6 | 4 |
| Vitamin C, Zinc, Iron | | |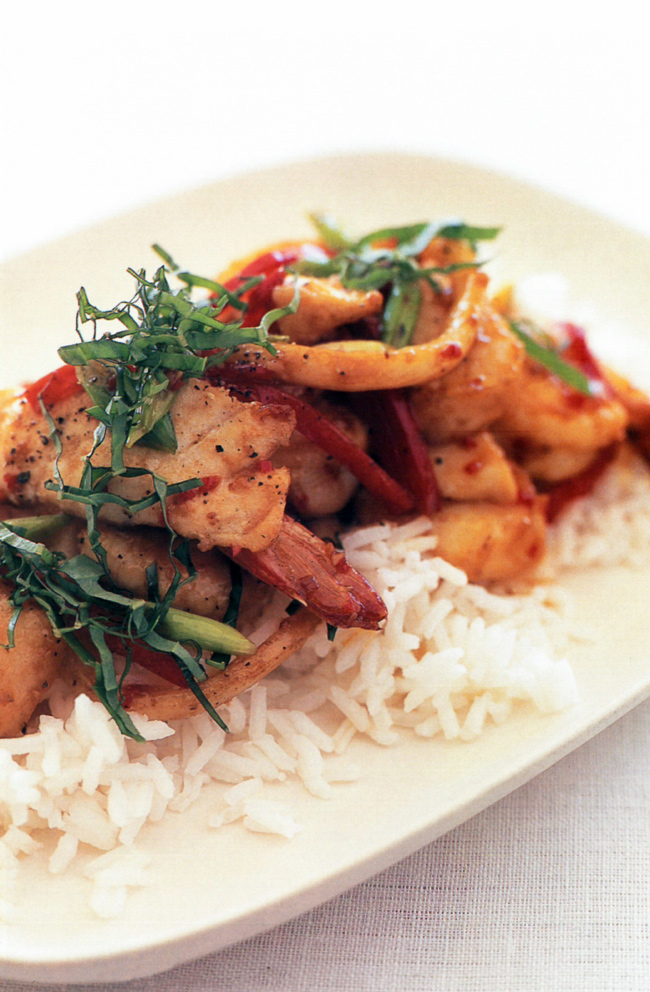 Australian Institute of Sport - From the "Survival for the Fittest" cookbook
05 Nov 2018
HINT: Any of the seafood elements could be increased, decreased or omitted to your liking, but keep the total weight in mind to yield enough for 4-6 servings
no, Spice, survival-for-the-fittest
Spice
Return to top