Salmon mornay potato
Preparation time

15 minutes

Cooking time

60-90 minutes

Serves

2-4
Ingredients
4 large evenly shaped potatoes, about 300 g each
2 teaspoons cornflour
250 mL (1 cup) CARNATION Light and Creamy Evaporated Milk
½ cup grated low-fat cheese
210 g can salmon (well drained)
1 tablespoon chopped parsley
Method
Clean the potatoes if necessary and pat the skin dry with paper towel.
Pierce the potatoes a few times with a small sharp knife and place directly on the shelf of a preheated hot (210°C or 415°F) oven and bake for at least 1 hour.
Leave in the oven for 1½ hours for really crisp skins.
When the potatoes are cooked, cut a cross in the top of each one, pull apart, and spoon heated mornay sauce over the top.
Mornay sauce
Put cornflour into a small bowl and gradually add 60 mL (¼ cup) milk.
Stir until smooth. Put 185 mL (¾ cup) milk into a small pan and heat until almost boiling.
Add cornflour mix and stir over medium heat until sauce thickens.
Stir in cheese, salmon and parsley.
To serve, open out potatoes and pour the mornay over them.
Nutrition
| ANALYSIS per serve | 2 | 4 |
| --- | --- | --- |
| Energy kJ (Cal) | 3614 (863) | 1807 (432) |
| Carbohydrate (g) | 104 | 52 |
| Protein (g) | 63 | 31 |
| Fat (g) | 22 | 11 |
| Calcium, Iron, Vitamin C, Zinc | | |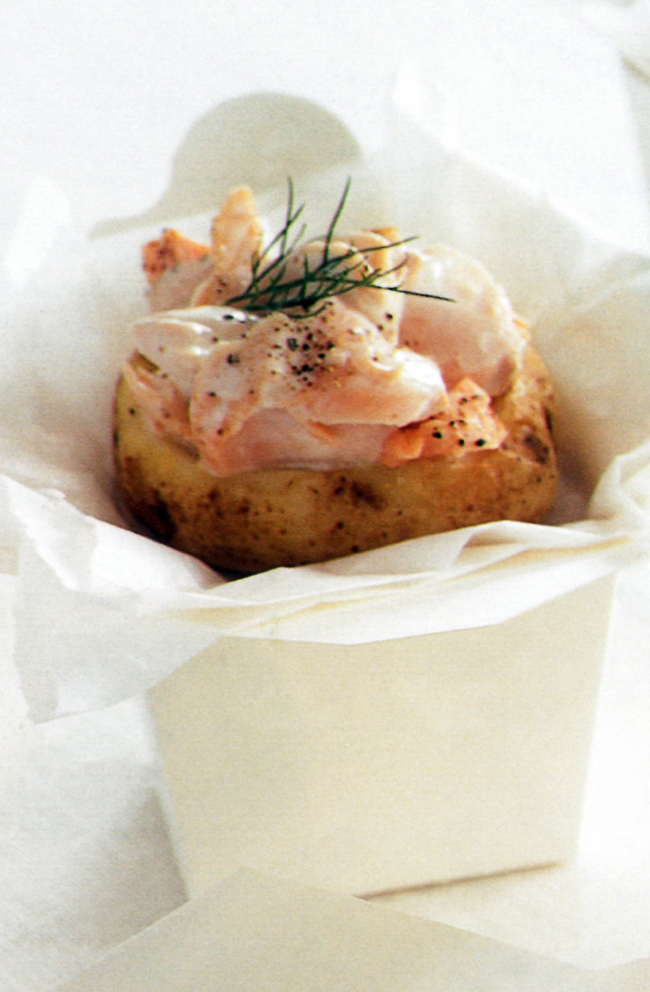 Australian Institute of Sport - From the "Survival for the Fittest" cookbook
05 Nov 2018
no, Bakes and Grills, survival-for-the-fittest
Bakes and Grills
Return to top