Quick pasta casserole
Preparation time

15 minutes

Cooking time

40 minutes

Serves

4-6
Ingredients
Spray of canola or olive oil
1 onion, chopped
300 g lean lamb mince
2 zucchini (courgette), thinly sliced
1 carrot, thinly sliced
100 g button mushrooms, thinly sliced
400 g can chopped tomatoes
375 g jar tomato-based pasta sauce
375 g shell pasta, cooked
SAUCE
1½ tablespoons cornflour
375 mL can CARNATION Light and Creamy Evaporated Milk
½ cup grated reduced-fat tasty cheese
Method
Preheat the oven to moderate (180ºC or 350ºF).
Spray a large pan with oil and heat.
Add the onion and cook over medium heat for 3 minutes or until soft.
Add the mince and cook for about 5 minutes, or until browned, breaking up any lumps with a fork.
Add the remaining ingredients, except the pasta.
Bring to the boil, reduce the heat and simmer for 5 minutes.
Stir in the pasta and transfer to a 2 litre (8 cup) capacity casserole dish.
To make the sauce, put the cornflour into a small bowl and gradually add 80 mL (1/3 cup) milk, stirring until smooth.
Pour the remaining milk into a small pan, gradually add the cornflour mixture and stir constantly until the sauce boils and thickens.
Remove from heat, add half the cheese and stir until melted.
Pour the sauce over the pasta mixture and sprinkle with the remaining cheese.
Bake for 25 minutes or until golden brown on top.
HINT: Use wholemeal pasta if you need to increase your fibre intake. Substitute other chopped vegetables as desired
Nutrition
| ANALYSIS per serve | 4 | 6 |
| --- | --- | --- |
| Energy kJ (Cal) | 2770 (660) | 1845 (440) |
| Carbohydrate (g) | 95 | 63 |
| Protein (g) | 45 | 30 |
| Fat (g) | 10 | 7 |
| Calcium, Iron, Zinc | | |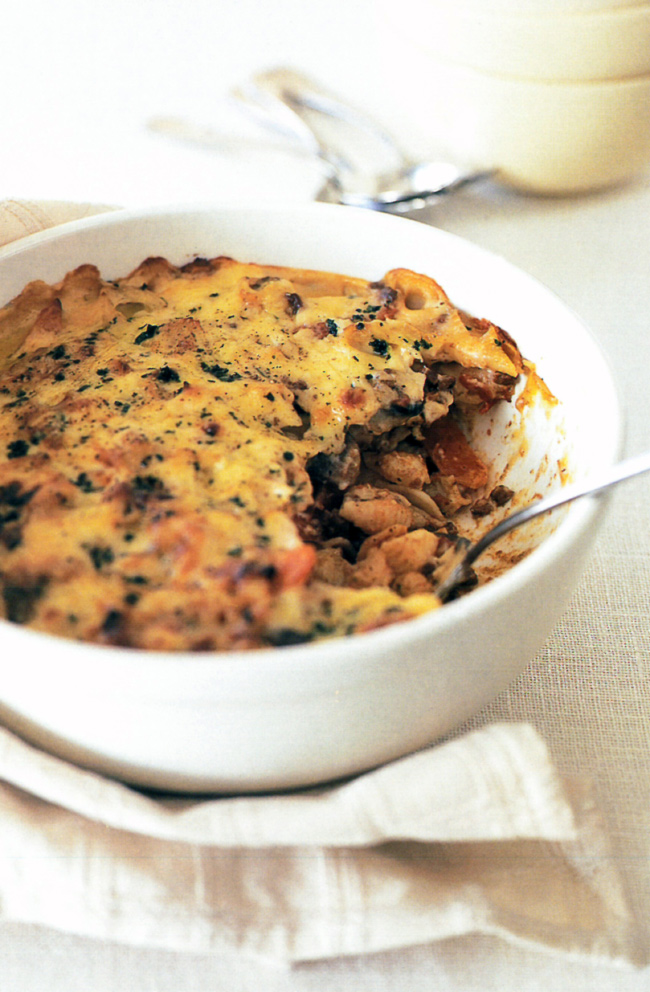 Australian Institute of Sport - From the "Survival for the Fittest" cookbook
05 Nov 2018
HINT: Use wholemeal pasta if you need to increase your fibre intake. Substitute other chopped vegetables as desired
no, Pasta, survival-for-the-fittest
Pasta
Return to top