Ingredients
Olive or canola oil
1 onion, chopped
2 tsp minced garlic
1 tbs minced ginger
2 tbs Indian curry paste (such as Madras or Tikka)
1 tsp ground cumin
1 tsp ground cinnamon
1 tsp ground turmeric
2 tsp ground coriander
500 g lean lamb, cubed

1

-1½ cups basmati rice
1 litre MAGGI Real Chicken Stock
1 cup frozen peas
200 g cauliflower florets
¼ cup diced dried apricots
200 g PETERS FARM Natural No Fat Set Yoghurt
2 tbs chopped fresh mint 2 tomatoes, chopped
2 tbs chopped fresh coriander
Method
Preheat oven to 180° C (350°F).
Spray a large casserole dish with oil and cook onion and garlic over medium heat until soft.
Add ginger, curry paste, cumin, cinnamon, turmeric and ground coriander and cook, stirring, for 1 minute.
Add a third of a cup of water, if necessary, to prevent sticking.
Add lamb and cook for 3-5 minutes or until browned.
Stir in rice and cook for 1 minute.
Add stock, peas, cauliflower and apricots and bring to a simmer.
Cover and then bake in oven for 25-30 minutes or until stock is absorbed and rice is cooked.
Remove from oven and allow to rest for 5 minutes.
Combine yoghurt and mint.
Combine tomatoes and coriander in a separate bowl.
Serve biryani with yoghurt mixture and tomato mixture.
Athletes with high fuel needs (e.g. endurance athletes, athletes who are growing, athletes aiming to increase muscle mass) require extra carbohydrate-based ingredients and a larger serve size
Athletes with low fuel needs (e.g. skill-based athletes, athletes trying to reduce body fat) need to opt for a smaller serve size
Nutrition
ANALYSIS per serve

High Fuel

4

Low Fuel

6

Energy (kJ)

2679

1533

Protein (g)

43

28

Fat (g)

15

10

Carbohydrate (g)

78

39

Calcium, Iron, Vitamin C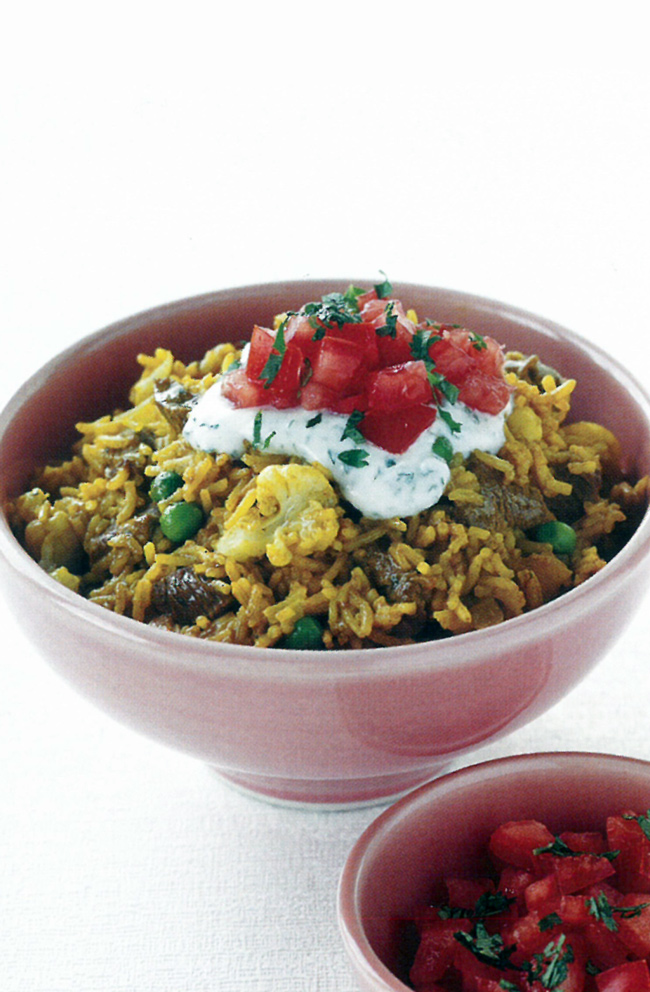 Australian Institute of Sport - From the "Survival Around the World" cookbook
05 Nov 2018
yes, Spice, survival-around-the-world
Spice
Return to top