Fruity oat slice
Preparation time

15 minutes

Cooking time

25 minutes + 5 minutes standing time

Makes

12
Ingredients
1½ cups UNCLE TOBYS Traditional Oats
1½ cups cornflakes
1/3 cup desiccated coconut
80g pitted dates, chopped
80g dried apple, chopped
¼ cup sunflower seeds
395g can NESTLÉ Sweetened Condensed Skim Milk
¼ cup brown sugar
Method
Preheat oven to 170°C fan.
Line a 20 x 30cm baking tray with non-stick baking paper. Combine UNCLE TOBYS Traditional Oats, cornflakes, coconut, dates, apple and sunflower seeds in large bowl.
Combine NESTLÉ Sweetened Condensed Skim Milk and brown sugar in a microwave-safe bowl. Microwave on MEDIUM for 4 minutes, stirring after each minute.
Add to dry ingredients and mix until well combined.
Press mixture into tray. Wet hands slightly to help.
Bake for 15–20 minutes until firm. Leave to cool in tray before slicing.
Nutrition
| ANALYSIS per serve | 12 |
| --- | --- |
| Energy kJ (Cal) | 928 |
| Carbohydrate (g) | 42 |
| Protein (g) | 6 |
| Fat (g) | 3 |
| Saturated fat (g) | 1 |
| Fibre (g) | 3 |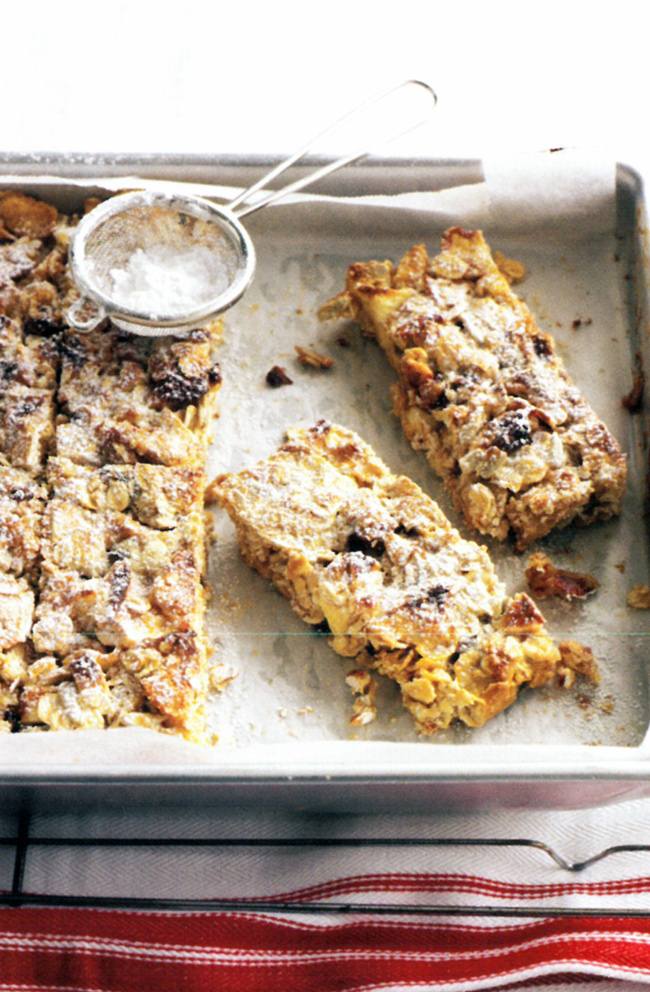 Australian Institute of Sport - From the "Survival for the Active Family" cookbook
05 Nov 2018
no, Treats, survival-for-the-active-family
Treats
Return to top