Chicken & vegetable laksa-style soup
Preparation time

15 minutes

Cooking time

10 minutes

Serves

4-6

Freezable

yes
Ingredients
Olive or canola oil spray
½ small red onion, finely chopped
2 teaspoons finely chopped lemongrass
1 teaspoon finely chopped fresh red chilli
1 teaspoon minced ginger
½ teaspoon ground turmeric
1 litre MAGGI Al Natural Chicken Liquid Stock
125 g dried rice vermicelli noodles
500 g or 2 skinless chicken breast fillets, halved lengthways and thinly sliced
1 bunch broccolini, cut diagonally into thirds
1 red capsicum, cut into thin strips
1 carrot, cut into thin strips
375 ml can CARNATION Light and Creamy Evaporated Milk
1 teaspoon coconut essence
2 teaspoons MAGGI Fish Sauce
1/3 cup fresh coriander leaves
Method
Spray a large saucepan with oil and heat.
Add onion and cook over low heat for 3 minutes, until soft.
Add lemongrass, chilli, ginger and turmeric, and cook, stirring, for 30 seconds.
Add stock and bring to the boil. Add noodles, chicken and vegetables.
Return to the boil, reduce heat to medium-low, and simmer uncovered for 5 minutes, until noodles are soft, vegetables are just tender and chicken is cooked through.
Stir in milk with coconut essence and heat through.
Stir through fish sauce and serve topped with coriander leaves.
Serve with bread.
HINT: This soup is best served immediately. Vary the recipe with vegetables such as bok choy, zucchini, baby corn or snow peas, or use firm white-fleshed fish fillets instead of chicken
Nutrition
| ANALYSIS per serve | 4 | 6 |
| --- | --- | --- |
| Energy kJ (Cal) | 2473 (591) | 1649 (394) |
| Carbohydrate (g) | 67 | 45 |
| Protein (g) | 50 | 33 |
| Fat (g) | 13 | 9 |
| Calcium, Iron, Vitamin C, Zinc | | |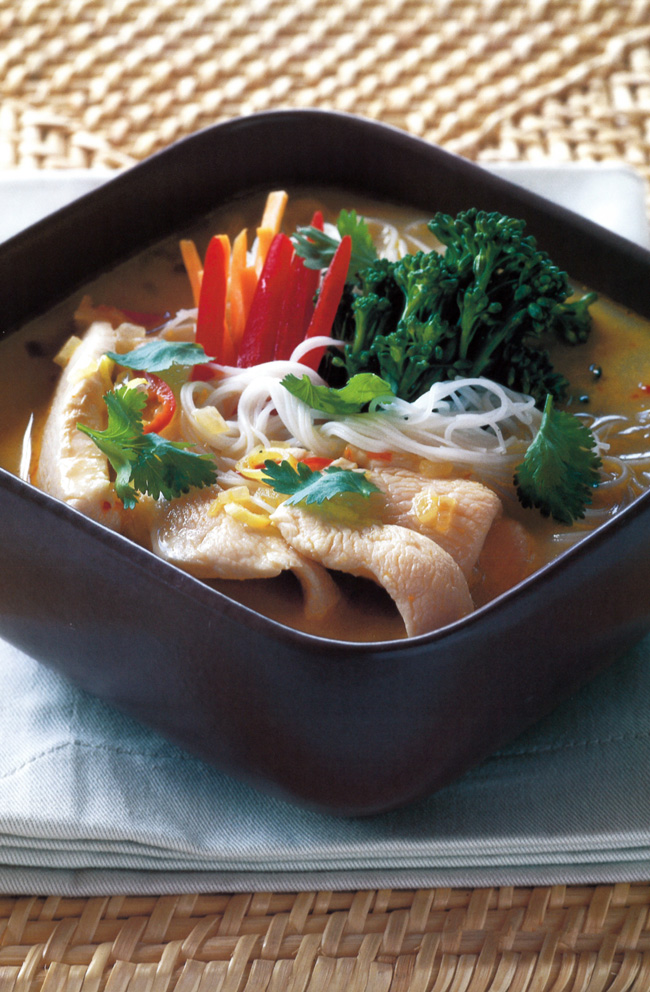 Australian Institute of Sport - From the "Survival from the Fittest" cookbook
05 Nov 2018
HINT: This soup is best served immediately. Vary the recipe with vegetables such as bok choy, zucchini, baby corn or snow peas, or use firm white-fleshed fish fillets instead of chicken
yes, Soups and Salads, survival-from-the-fittest
Soups and Salads
Return to top