Butter chicken with vegetables
Preparation time

20 minutes

Cooking time

35 minutes

Serves

4-6

Freezable

yes
Ingredients
2 cups basmati rice
olive or canola oil spray
500 g chicken breast fillets, cut into cubes
1 onion, sliced
1 sachet MAGGI TASTE OF ASIA Butter Chicken
1 tablespoon tomato paste
375 ml CARNATION Light and Creamy Evaporated Milk
1 teaspoon coconut essence
1 cup MAGGI All Natural Chicken Liquid Stock
2 teaspoons brown sugar
300 g orange sweet potato, diced
200 g snow peas, halved
1 bunch asparagus, sliced
50 g toasted flaked almonds
2 tablespoons fresh coriander leaves
Method
Cook rice in a large saucepan of boiling water for about 12 minutes or until tender.
Drain well.
Spray a nonstick wok or frying pan with oil and heat.
Cook chicken in 2 batches over high heat until browned.
Remove from wok.
Add onion, spice sachet and 3 tablespoons water and cook over medium heat for 3 minutes or until onion is soft.
Stir in tomato paste, milk, coconut essence, stock, sugar and sweet potato and cook, covered, for 10 minutes or until sweet potato is tender.
Add chicken, snow peas and asparagus and cook, uncovered, for 5 minutes or until green vegetables are tender but still crisp.
Serve on rice, sprinkled with toasted almonds and fresh coriander leaves.
HINT: This recipe freezes well. Vary the vegetables with bamboo shoots, zucchini, pumpkin and peas
Nutrition
| ANALYSIS per serve | 4 | 6 |
| --- | --- | --- |
| Energy kJ (Cal) | 3318 (793) | 2212 (528) |
| Carbohydrate (g) | 113 | 75 |
| Protein (g) | 49 | 33 |
| Fat (g) | 16 | 11 |
| Calcium, Iron, Vitamin C, Zinc | | |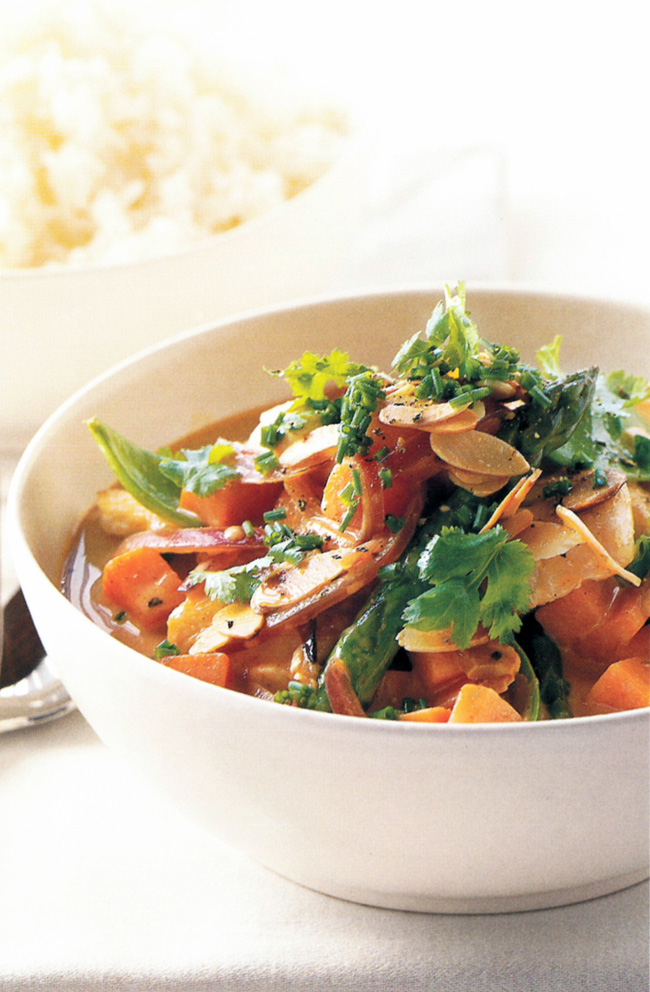 Australian Institute of Sport - From the "Survival from the Fittest" cookbook
05 Nov 2018
HINT: This recipe freezes well. Vary the vegetables with bamboo shoots, zucchini, pumpkin and peas
yes, Spice, survival-from-the-fittest
Spice
Return to top